Resort Events
Wine Country Events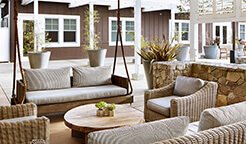 Family Fun Night
On the last Saturday of each month, June through September, a popular selection of children's films will be shown for a summertime outdoor evening movie experience at the newly renovated Family Pool. Movies are complimentary, and movie snacks, beverages and s'mores will be available for purchase. We will also be offering fun jumbo sized games for the whole family to enjoy, including Dominoes, Tic-Tac-Toe, Connect Four and Corn Hole Toss.
Auction Napa Valley
Imagine a week spent with some of America's most well-known vintners, sharing their finest wines in one of the world's most beautiful places. Add the chance to enjoy some of California's artful cuisine and the opportunity to bid on once-in-a-lifetime experiences and collections of Napa Valley's extraordinary wines. Sprinkle in the satisfaction that comes from generously supporting a community, and you've got the recipe for the world's most celebrated wine event: Auction Napa Valley.
Napa Valley Restaurant Week
Napa Valley Restaurant Week allows locals and visitors to dine and delight throughout the valley and experience our legendary food and wine culture during the last week in January. Through multi-course prix-fixe menus for lunch ($20) and dinner ($36 or $46), guests can try out the latest culinary hot-spots or revisit old favorites all week long. Our farm-to-table practices and Michelin-Star rated restaurants make the Napa Valley an epicurean's destination, and there's no better time to enjoy it all than during Restaurant Week.
---